Dress of The Week - Lisha
Hello lovelies,
WOW WOW WOW! It's been a busy few weeks here at Cerys' Closet what with the Porthcawl Elvis Festival and lots of lovely weddings taking place.
I was devastated when we were informed we couldn't take our stall to the Elvis fest this year... but with COVID rules still in place here in Wales, I get it.
I really missed the atmosphere at the festival, but boy oh boy did you guys bring the party to us in the shop!
As soon as I announced the shop wouldn't be attending, my regular stall visitors and fans of Elvis made it their mission to bring the Elvis fun to the shop with them!
Not only did you come for dresses, petticoats and accessories.... But I had Elvis's visit the shop by the car load!
Regulars to the stall came to the shop just to say hello and check in with me; some of you I only see once a year as you live so far away, but you popped in and it made me so happy to see your faces this year.
I was serenaded by the English, spun around a makeshift dancefloor by the Welsh and one of the Scots brought their little fur baby in his Elvis wig and glasses!
It was an absolute blast! Thank you all for coming to the shop and making my Elvis weekend so special when I couldn't be there.
I really missed spending time with my girls and my family on the stall, but we will be back next year!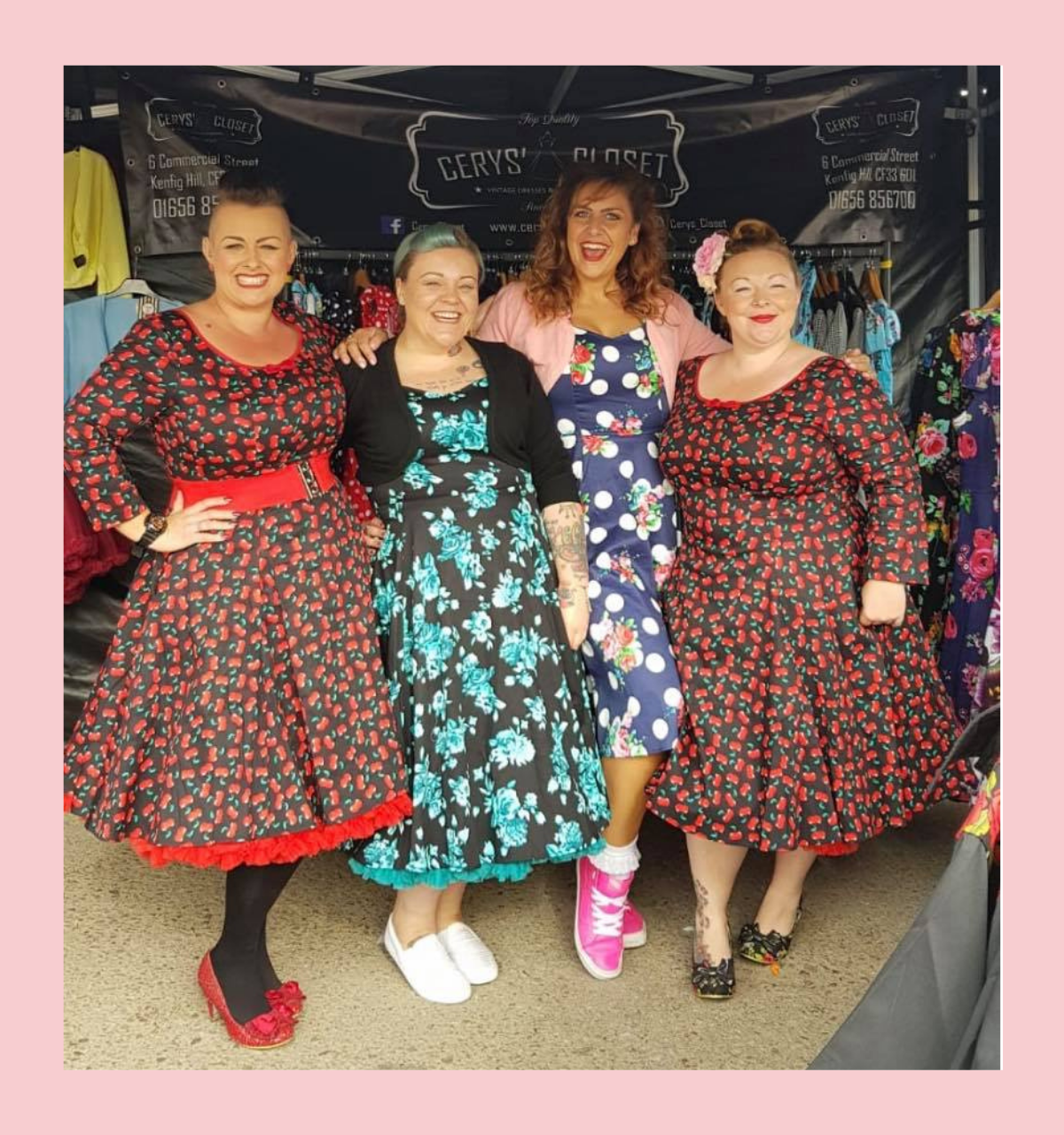 For right now though... lets take a peek at the lovely Lisha Dress we have in stock.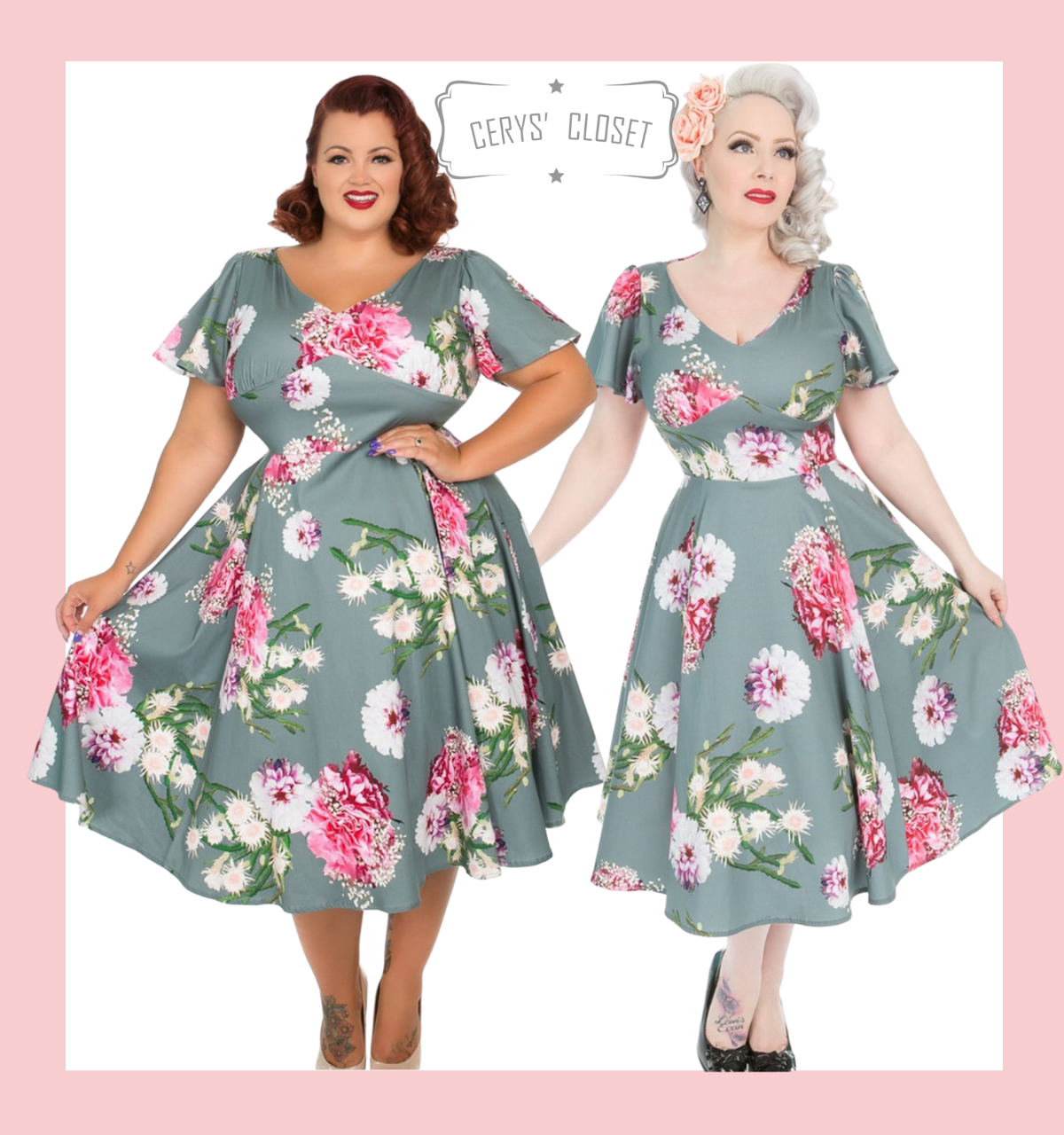 About the Dress
Available in sizes 8 - 26; unfortunately this dress is being discontinued so I have stocked up my inventory in preparation. But I'm sorry ladies, once it's gone.... it's gone for good.
This dress is an absolute dream to wear!
The beautiful colours make it very versatile, and ideal for a lot of occasions. I have sold a few of these recently for wedding guests and christenings, but I think it would make a dream date dress!
The dress has an amazing V neckline that helps when you have a larger bust as it makes the neck look longer.
The flutter sleeves are absolutely heaven sent for ladies who don't like to show their arms. There is a lot of material in them to create the flutter and therefore allow for good circulation for cooling if you get too hot.... You know what I'm talking about ladies!
The bodice is fitted as with all of our 50s inspired dresses.
The fabric allows for a small amount of stretch but I would highly recommend sizing up in this dress if you have a large bust.
The only downfall to the design of this dress is the D.B.S or Designated Boob Space (as we like to call it). This is excellent for ladies with a smaller bust as it really adds to the silhouette of the dress and is perfectly in keeping with the 40s and 50s era... but for ladies who's cups runneth over... the girls won't fit in the D.B.S.
DO NOT LET IT DETER you from considering this dress though... as you can see from the photos of this dress... it doesn't really affect the look, as a matter of fact it nips the bust in and accentuates the silhouette. But I can see it, I am honest... and I will always tell you the good and the bad about each dress we have in stock.
The skirt is a full circle and is super flattering, it covers tummy and bum areas beautifully and that's what makes this style of dress so perfect.... as long as the top half fits well, the sizing for the bottom of the dress doesn't matter as it is free size.
The dress can be worn with or without a petticoat, but I love a good swish so I always wear a petticoat when I can. I recommend the lilac, any of the pinks, burgundy mint or white with this beautiful dress. All of which I have personally worn with this dress.
Outfit Inspiration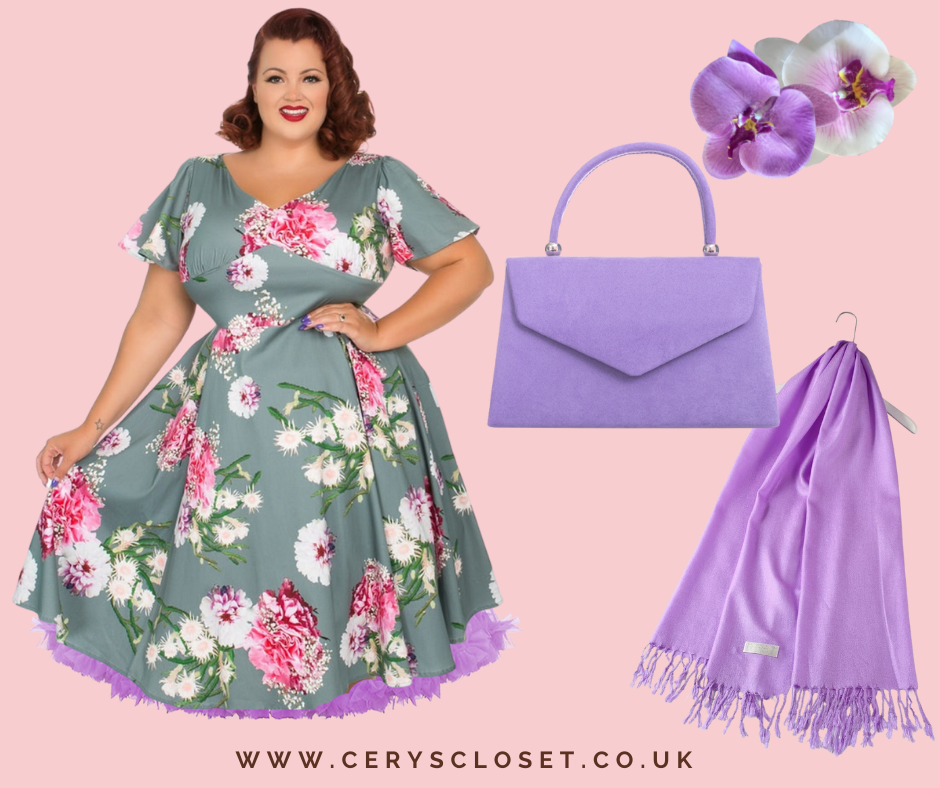 This Dress looks amazing with lilac as it's one of the colours in the centre of the flowers.
In this image I have the following items:
Lilac petticoat
Lilac Hair Orchid
White and Purple Hair Orchid
Pashmina (due in the end of this week)
Lilac Suede Handbag
Customers in our Dress of The Week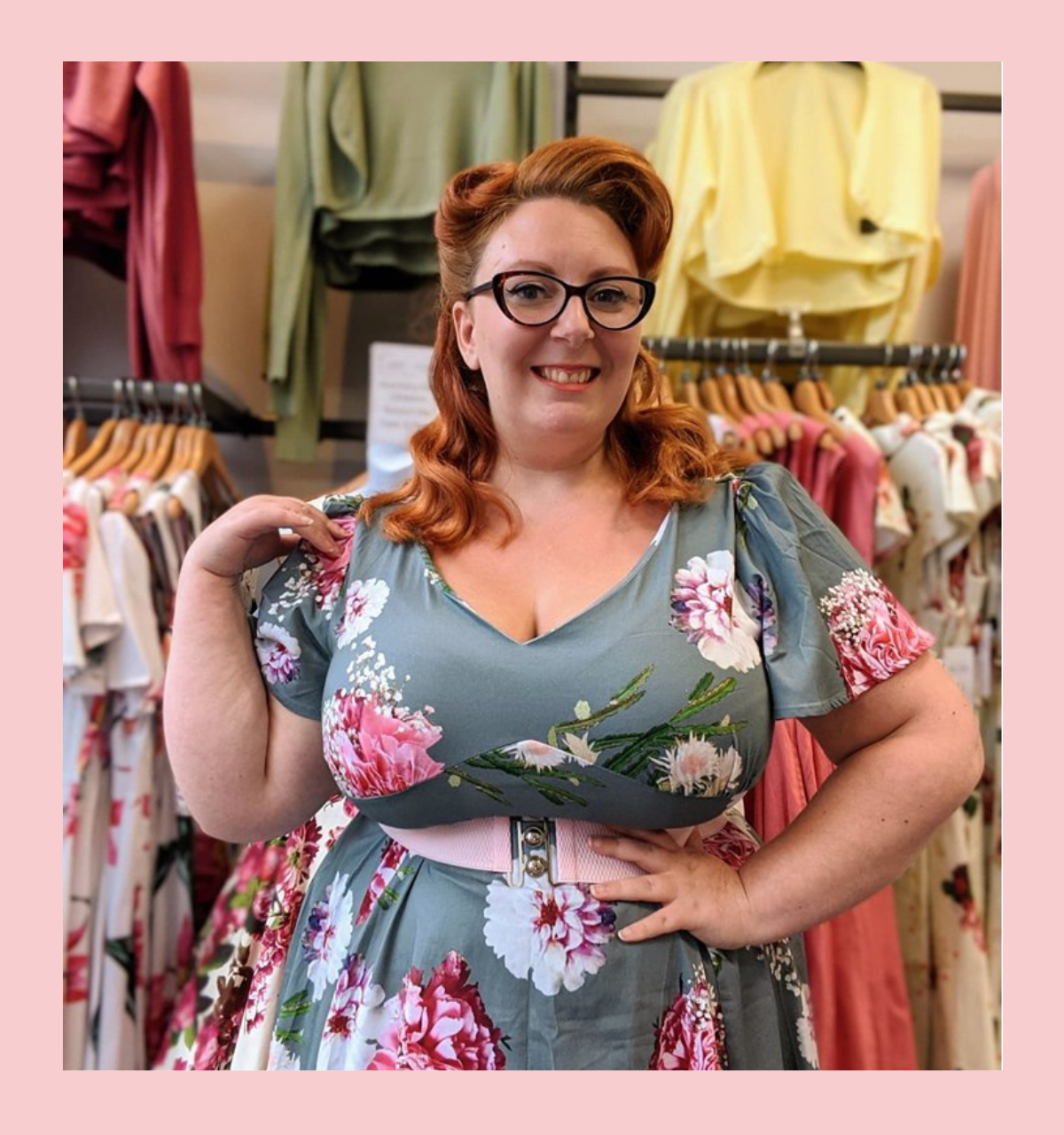 In the photo above is the lovely @miss.spoonfulofsugar a.k.a Kirsty wearing the Lisha dress and looking pretty in pink.
Below is a photo of my sister Bethan wearing her very own Lisha dress while visiting our stall at the Elvis Festival. Bethan wore this dress to a wedding, a christening and to the Elvis fest. I love it when ladies can wear a dress to more than 1 occasion!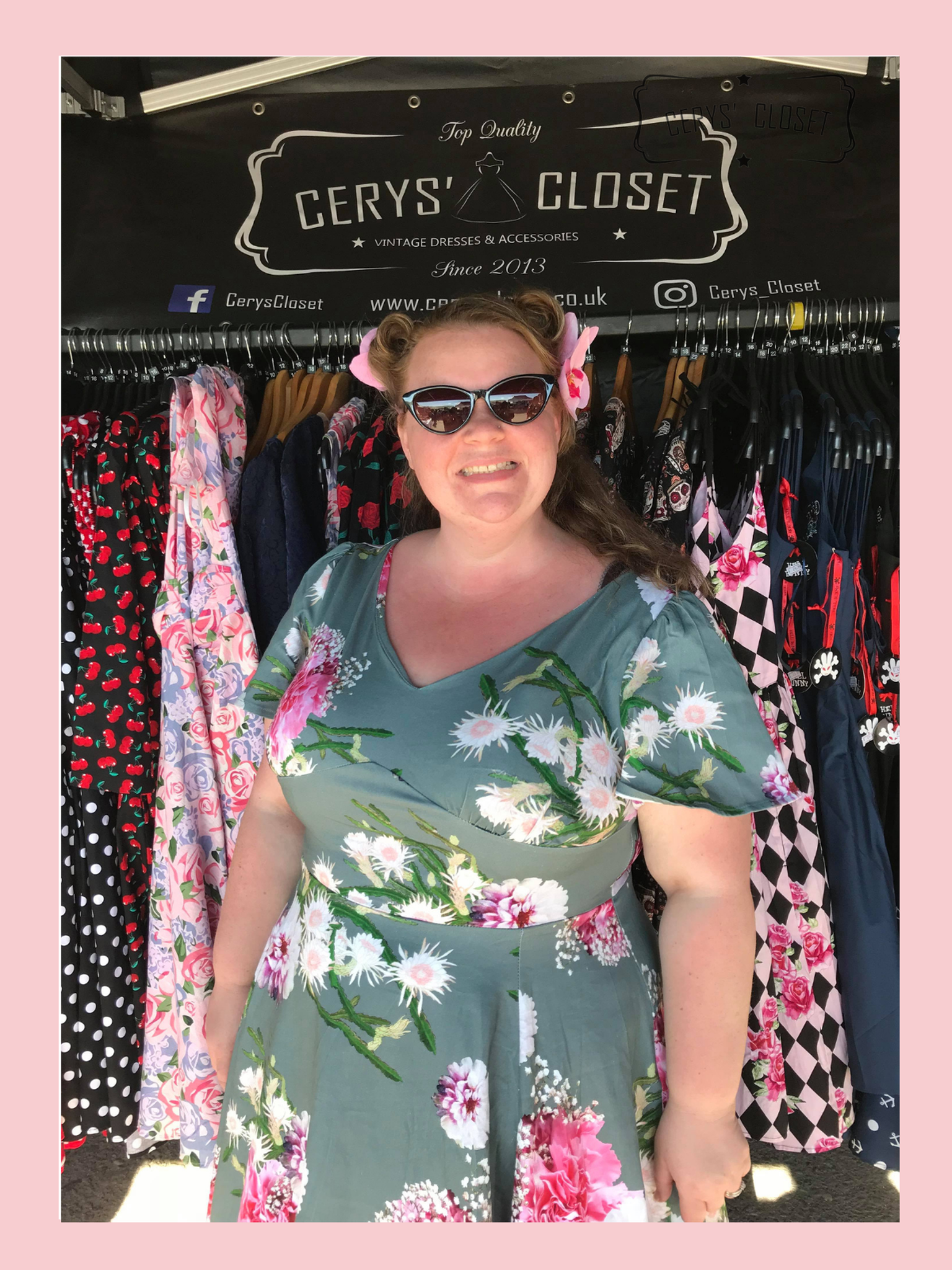 What's New In Store?
As most of you know the whole of the UK is struggling with various supply problems at the moment, and our own suppliers are struggling too.
I have had many emails warning of stock not arriving until early next year so I have done my best to stock up on handbags and accessories for the coming months, especially with Christmas around the corner!
Here are some of our new designs, but there are so many I couldn't fit them all here... Check out the new in section for handbags here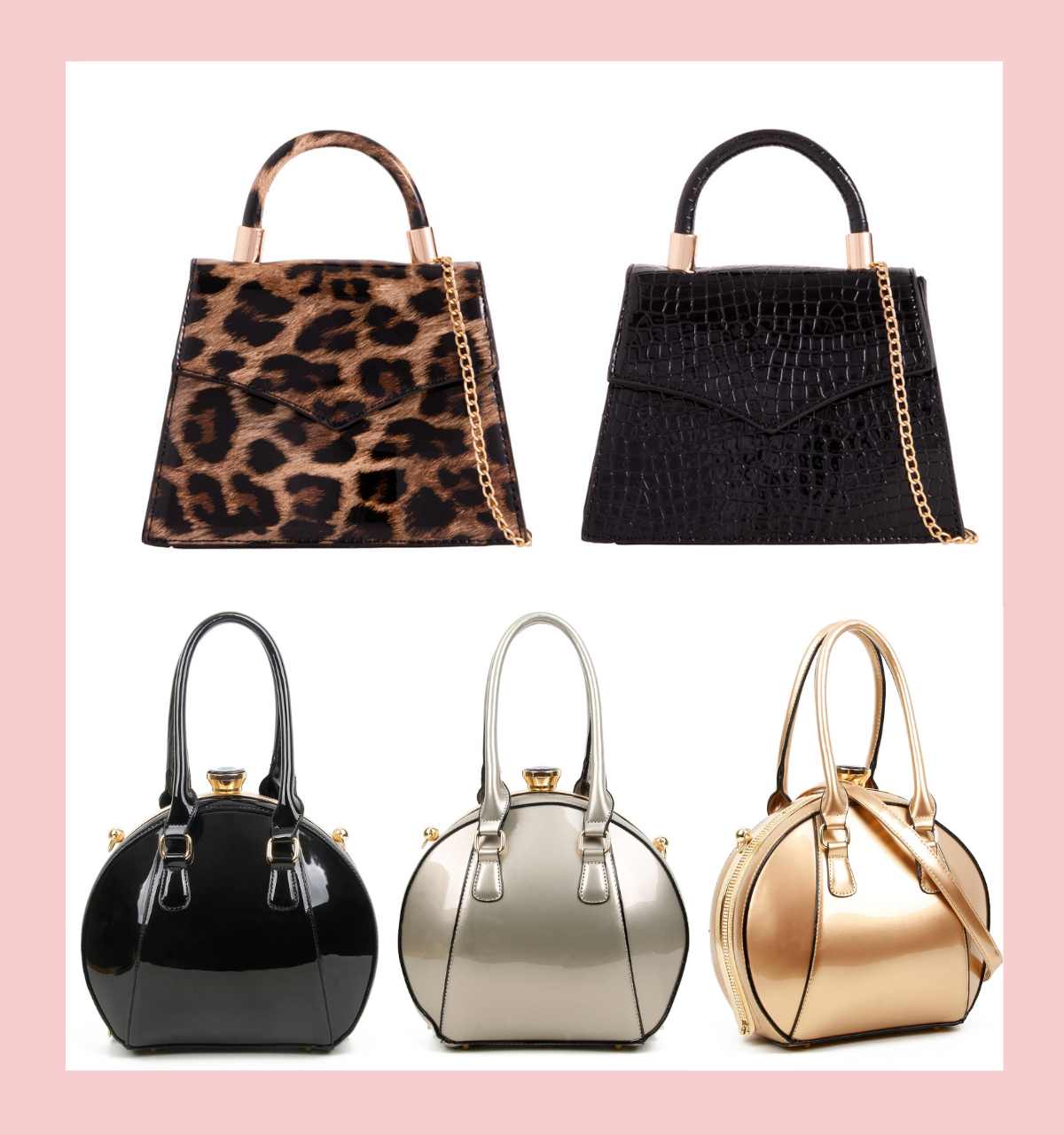 I have been busy ordering a good stock of petticoats in too... Some of these colours will not be available again until late spring. So grab them while you can especially if you have an event coming soon.
Don't forget we offer Klarna and Layaway if you want to pay for them in slices.
Scarf season is almost upon us and I have also ordered a lot of lovely colours and a few spectacular prints that should be arriving next week.... so make sure you keep an eye on our new in sections.
Stay safe lovelies,
Cerys x