Dress of The Week - Sweet Cherries
Hello Lovelies,
Happy Friday the 13th! Has your day been a lucky one? Or have you suffered from Friday 13th bad luck?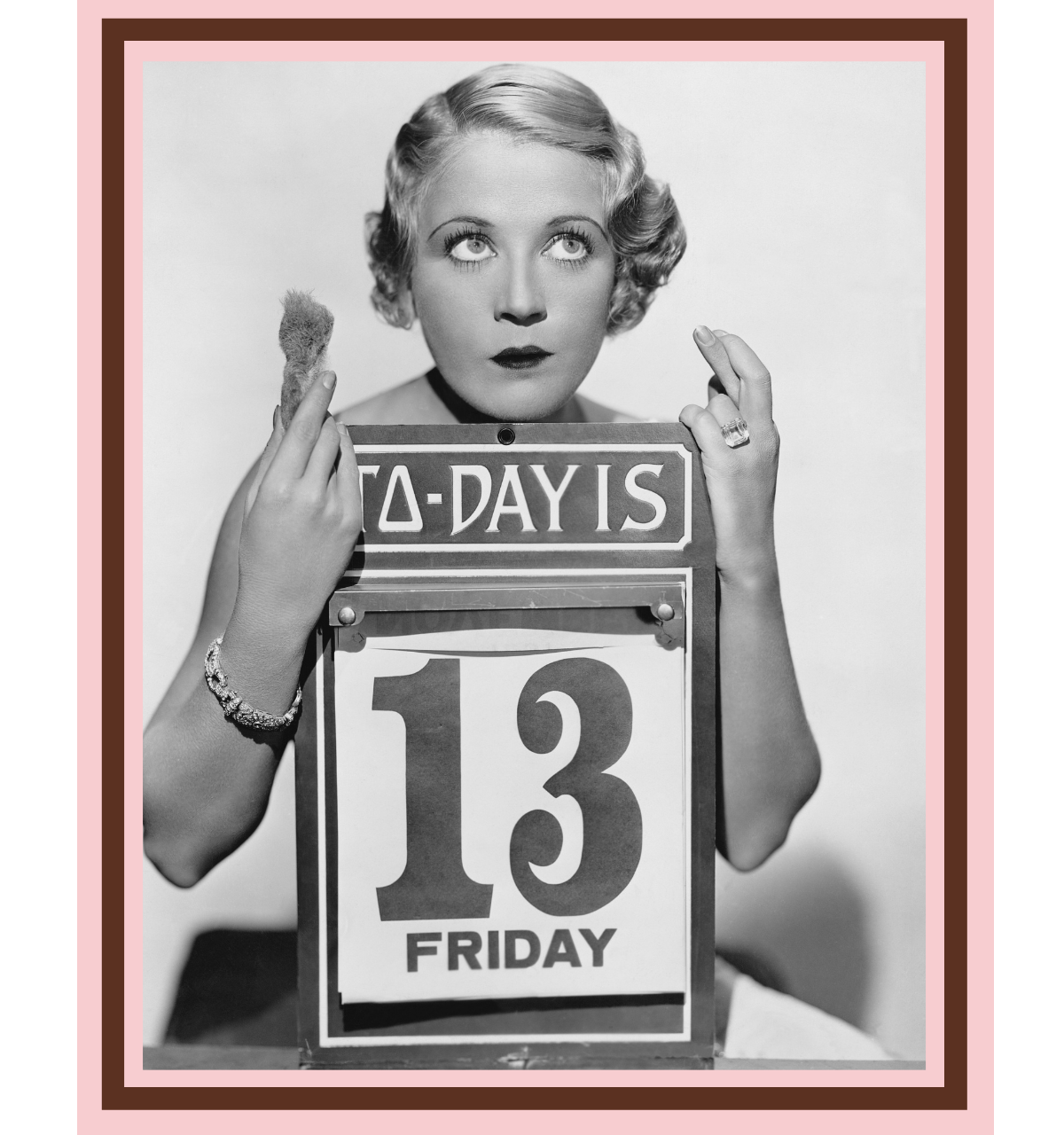 I am happy to say that my day has been an uneventful/ normal one so far.
I am one of those people who believes that Friday the 13th is a lucky day... so I have bought a lottery ticket and I have my fingers crossed for tonight's Euro millions.
It's been a little quiet in the shop today so I have been busying about in the stock room making room for the new items due in.
I've also done a full stock take of our own brand items and updated those onto the website... I found a few surprise items in the stock room, so if you're waiting on a Vera or Betty in a certain size or colour I would recommend checking the website today as they won't be there for long.
Dress of the Week
I've had lots of you in the shop this week super excited about the Elvis Festival Porthcawl being given the thumbs up to go ahead!
I love this event, as a business we have attended with our stall for the last 9 years, and every year it gets better.
(If you haven't attended before I highly recommend popping down to beautiful Porthcawl to check it out. Porthcawl Elvis Festival - The Premier UK and European (elvies.co.uk)
With this huge event coming, I have had lots of requests for classic rock n roll fabrics and the one that everyone loves in store is the classic Cherry print, so Sweet Cherries is my choice for dress of the week.
Left pic available in sizes 18 - 26
Kids sizes 3-12years
Right pic available in sizes 8-18
This dress has been a winner with our rock n roll crowd for a long time, a lot of people who come into the shop associate the cherry print with both Rock 'n' Roll and Rockabilly.
Unfortunately I have been unable to get a good cherry print dress that stretches from the 8-26 size range I usually stock... these dresses have the same print, but are slightly different in the styling.
Both have been a huge hit in store and online, and have been worn to Weddings, parties, rock n roll events, Goodwood and Rockabilly events. They are definitely dresses for all occasions.
The dress on the left is the original sweet cherry design that we have stocked for a few seasons, it is only available in sizes 18-26.
It has been a best seller in the shop for a long time with everyone loving the ruching on the chest, and the adorable little frill sleeves.
The dress on the right is the new design of the sweet cherries dress. It has been made in the same fabric as the plus size version, but it has the beautiful white collar detail to the neckline, a simple little bow added to the chest and small sleeves.
It is only available in sizes 8-18.
Both of these designs are truly lovely and super easy to style.
As with all of our full circle dresses, they are both fitted through the bodice and flare into a full circle skirts that can be worn with or without a petticoat.
I personally LOVE a petticoat with this dress, especially if you are wearing it to the Elvis Festival or an event where there will be dancing, the movement of the dress with the petticoat underneath is amazing.
The child's dress is a slightly different fabric design, but it is absolutely adorable!
It has a beautiful square cut neckline, a full circle skirt and a red ribbon to the back so you can pull the dress in slightly around the waist.
Styling tip - The red ribbon makes a lovely bow in the back of the dress, however I have styled it with the bow to the side and the front of the dress to make it into a belt.
When young ladies come into the shop and try these dresses on, they don't stop twirling and spinning as they love the volume on the skirt... when I show them the kids petticoats they get so excited!
You don't need a petticoat to wear this dress, but trust me... buy the petticoat, you wont regret it, the memories and photos of them spinning in their dress and petticoat is worth it.
Outfit Inspiration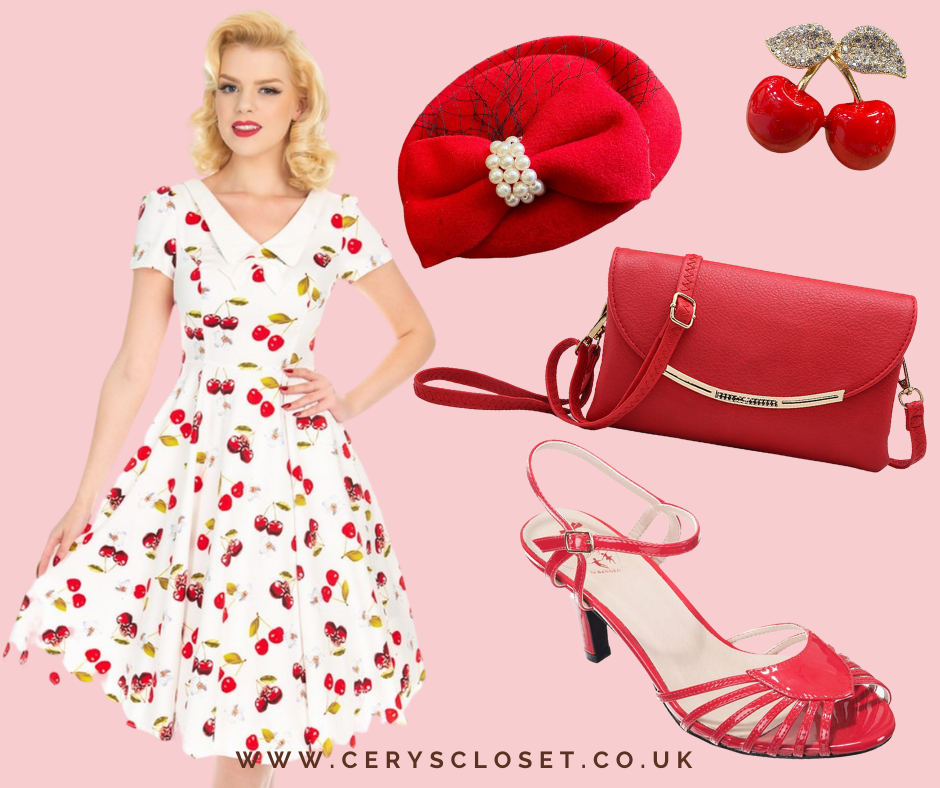 I love dressing this dress with red accessories as it is the obvious choice... however I have also styled it with green, black and burgundy and each accessory colour changes the dress completely.
Featured in this outfit inspo:
Style Tip - If I wear this dress to a casual event I will often dress it down with a pair of daps and a denim jacket with a cherry brooch on it. Add some white frilly socks to make this look extra adorable!
Check out the beautiful Donna wearing the Sweet Cherry dress with red accessories and the lovely Kath wearing the Midnight shirt dress.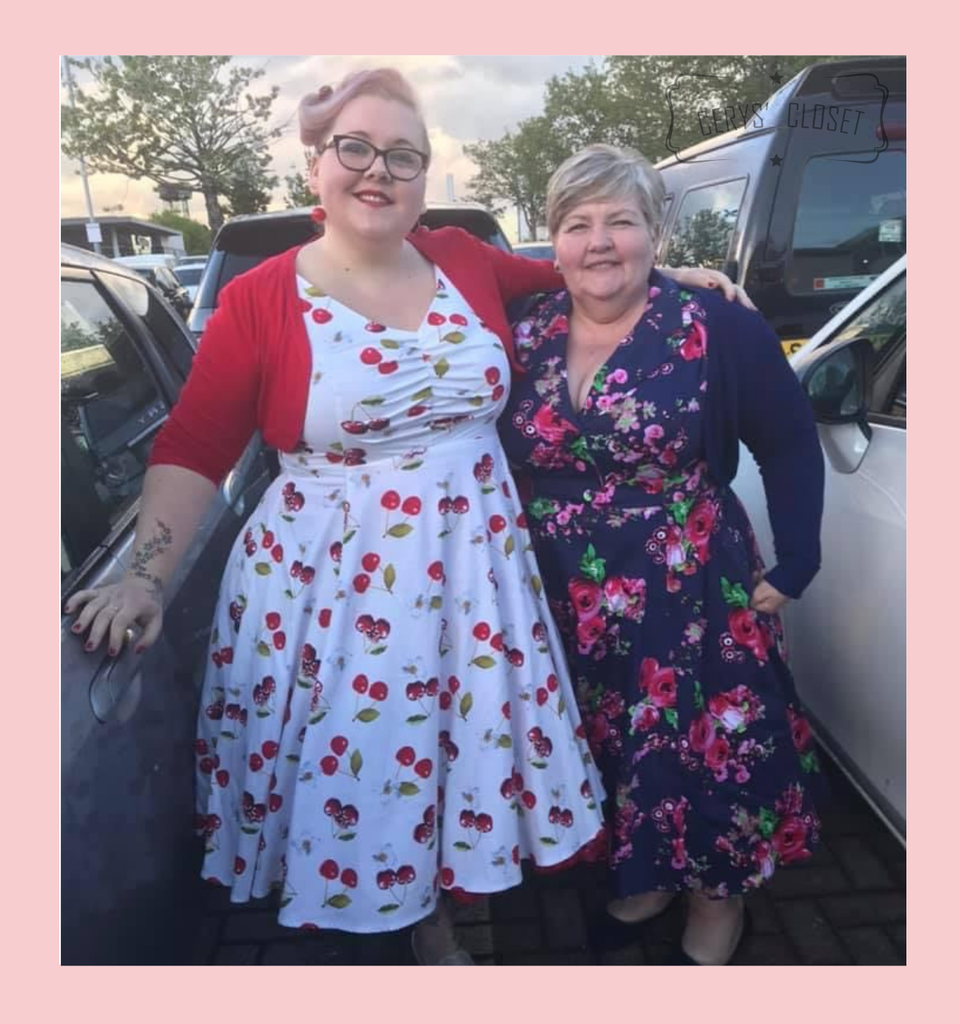 Tip of the week
Nothing screams vintage more than a good hair snood.
I have always admired the way the ladies from the 40s and 50s worked their hair into elegant styles. I was fascinated with movies from that era, where the women would be wearing gorgeous figure hugging gowns and their hair would be styled into curls and waves in the front, with a bejewelled net covering the back of their hair.
I have tried to fit snoods into my hair for years, but I have super thin hair; so when it comes to styling my hair I don't have enough to put 2 victory rolls in the front and then have a cascade of hair in the back.
Then one day....into the shop strolls the amazing @LishaSolik (pictured below) with a fantastic styling idea.
The hair snood... but with extensions!
Style the front of your hair with some amazing victory rolls or a betty bumper bang fringe.
(both tutorials can be found on Youtube - check our @pinupdollashleymarie or @cherrydollface for amazing hair styling)
Make sure you have enough hair left at the back of your head to be able to hide the clips on your clip in hair extensions.
Gather up all your hair and hair extensions and pop them inside the snood... NO ONE WILL KNOW IT'S NOT YOUR HAIR!
Use kirby grips to hold the snood in place.
Add hair flowers, cherries, hairband for desired look.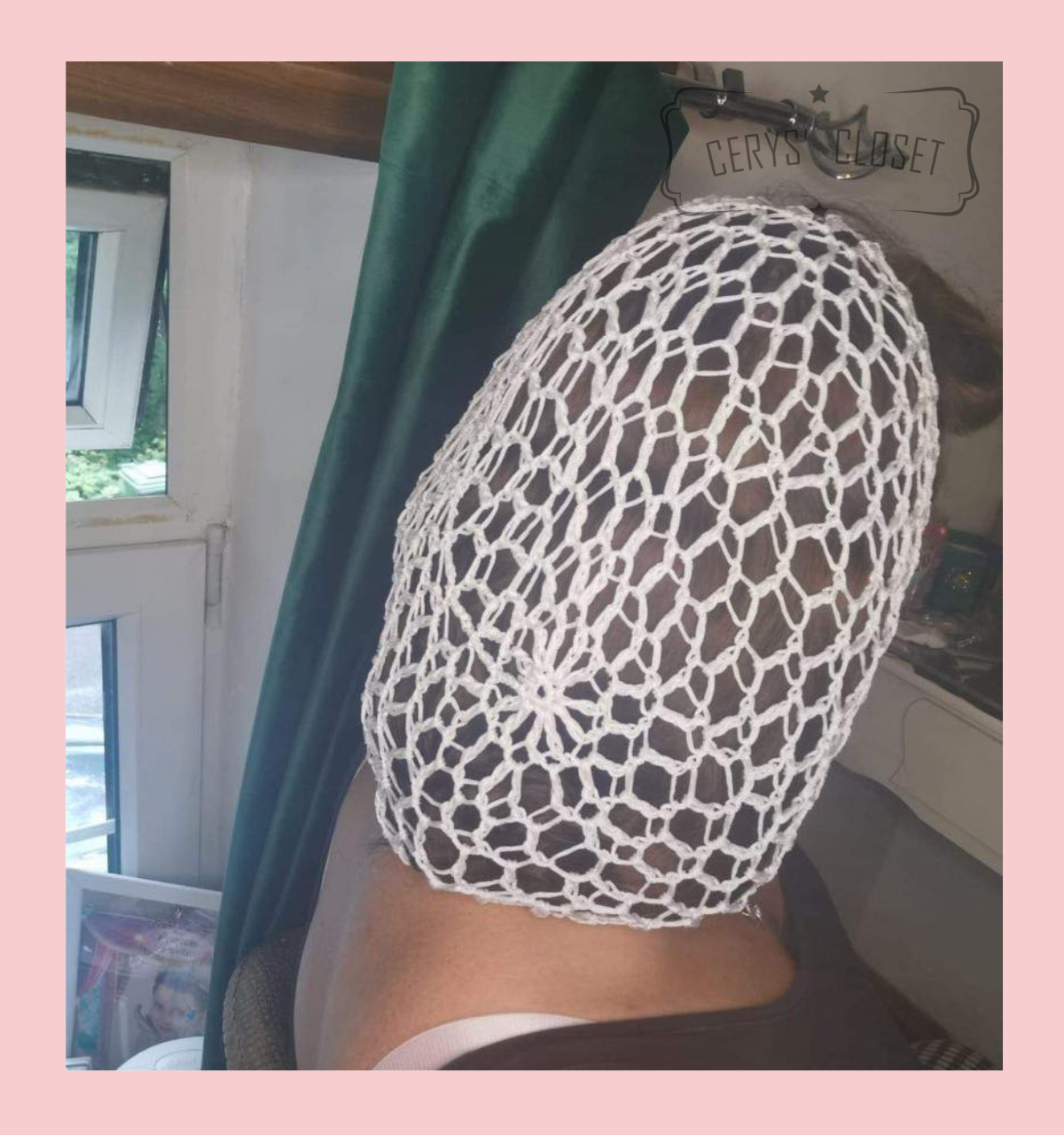 Currently we have 3 colours in stock at the shop and on our website. CHECK THEM OUT HERE
Don't forget to add your hair flowers!
What's Coming Soon?
Next week is our birthday!
Cerys' Closet will officially be 9 years old! (10 years if you include the first year that we traded online only/ out of the spare bedroom at my parents house).
I will have some exciting offers coming to celebrate our birthday, so make sure you're signed up to our newsletter, socials and keep an eye out for the blog post!
Stay safe lovelies,
Cerys xx