The Vera Sweet Heart Dress by Cerys' Closet
The Making of Vera
Well what a rollercoaster this launch has been!
If you had told me that someone was launching their own brand during lockdown, with no photos, no lead up to the launch, no launch party,... not even knowing when the products were going to arrive. I would have told you that person was crazy... turns out... I AM THAT CRAZY PERSON!
It has been disorganised chaos what with COVID19, lockdown and the worries of running a business during these uncertain times, but even so; I've launched my first ever dress production and it's been amazing.
Let me introduce you to The Vera Sweet Heart Dress
This dress has been a dream of mine for years; I've always altered my own dresses for better fit, I've inserted panels for extra boob room, Cut V's in the arms for more space, added shirring and French seams for nipping and tucking areas that don't sit quite right... until I opened my shop I thought I was alone in this, but the truth is I wasn't aware of how many of us busty ladies are doing the same.
I've spent years advising my own customers on the fit of the dresses we stock and from this... Vera became my goal. A dress that not only looked amazing and would fit in with the world of Vintage Reproduction, but was super comfortable to wear, clung to all the right places and hid all of our problem areas.
I had an idea of how I wanted the dress to look, but it's taken so long to find a material that would fit in with my dream; I wanted something with a good amount of stretch that would allow for larger busted ladies to still show off their small waists without having to size up to compensate for that larger bust.
The fabric also had to be heavy enough to smooth out lumps and bumps but not too heavy to have you sweating while busting a move on the dancefloor... yes I was asking for a miracle! But I found it. The fabric is a dream and ticks all the boxes, especially the one for stretch!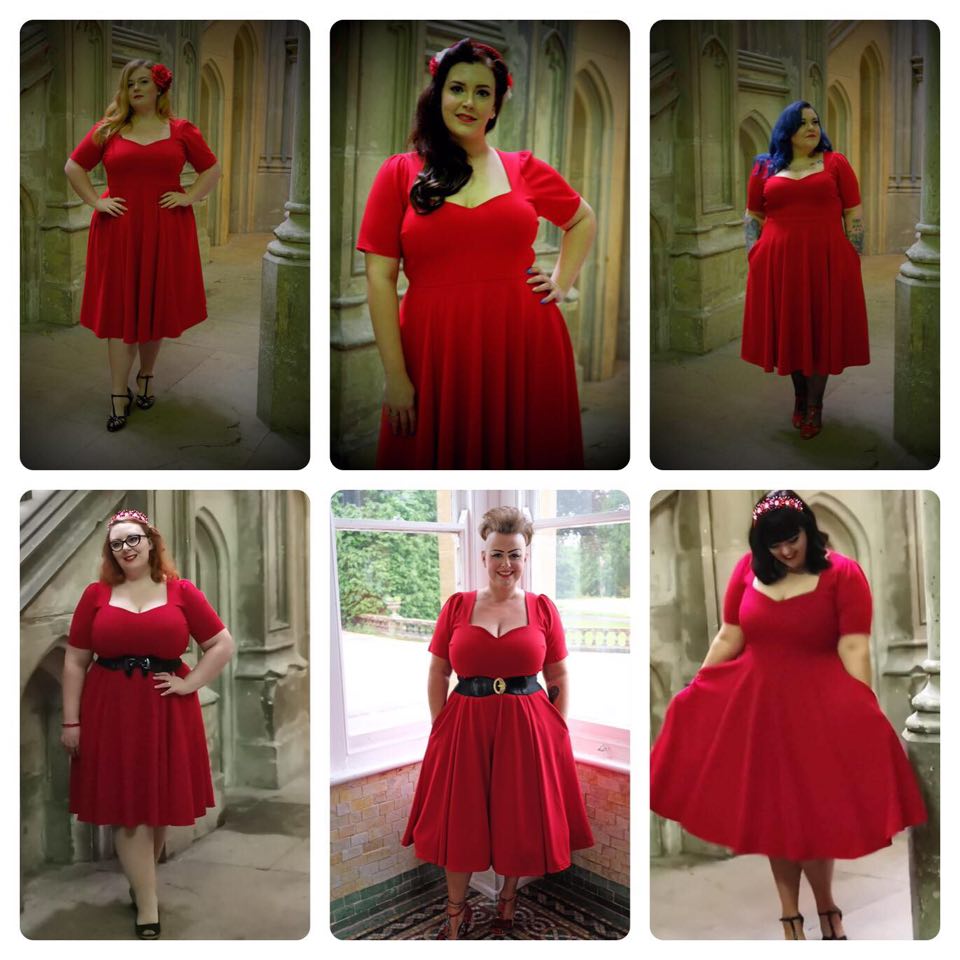 So... I have the dress design, I found the fabric and I have a manufacturer... we are all set... aren't we?
In February 2020 the sample arrived, and finally my dream was in my hands.
I asked all of the Pussycats to assemble; these are the gorgeous women you often see in the photos for our social media, website and at events (some of them are in the photos above and below). The Pussycats range in sizes from a 12 to a 24 and here I am asking them all to try the 16 sample. Eyebrows were raised... and yet they all fitted into the sample without a problem as you can see (above photo). There were great big beaming smiles all around - and this is exactly what I wanted for everyone who tries on our Vera.
I was thrilled!
With everything signed off in February; Vera was all set. I had a phone call on the Monday letting me know Vera had been cut... and by Thursday everything was on hold :'( Lockdown had arrived !
The worries of lockdown have affected every single small business across the UK and my worries were the same as everyone else... are we still going to be opening our doors when the lockdown lifts? How are we going to get through this? How am I going to pay my mortgage, staff and bills. Add this launch into the mix... and for a while there I really did think it wasn't going to happen, and after I got so close.
THE WILDEST 48 HOURS OF MY LIFE!
The dresses arrived on the day the nation lost the wonderful Dame Vera Lynn. Originally we were going to call this dress "The Perfect Dress" as it is the perfect dress for all occasions. But we decided to call the dress Vera as a tribute to the nations sweetheart from the eras that inspired us.
I had 24 hours notice that the dress was due to arrive. It was such a shock, they are coming, I don't have any photos and I'm just going to launch it... I WAS STRAIGHT ON THE PHONE... PUSSYCATS ASSEMBLE!!
We didn't have any fancy photos, no studio images, no ghost mannequin images, no launch party.... but I have my friends and they all have camera phones. And do you know what... they look AMAZING!!!
Add into the mix a wonderful blog review from the marvellous Miss Amy May and Vera has officially been launched!
Read Miss Amy Mays Review Here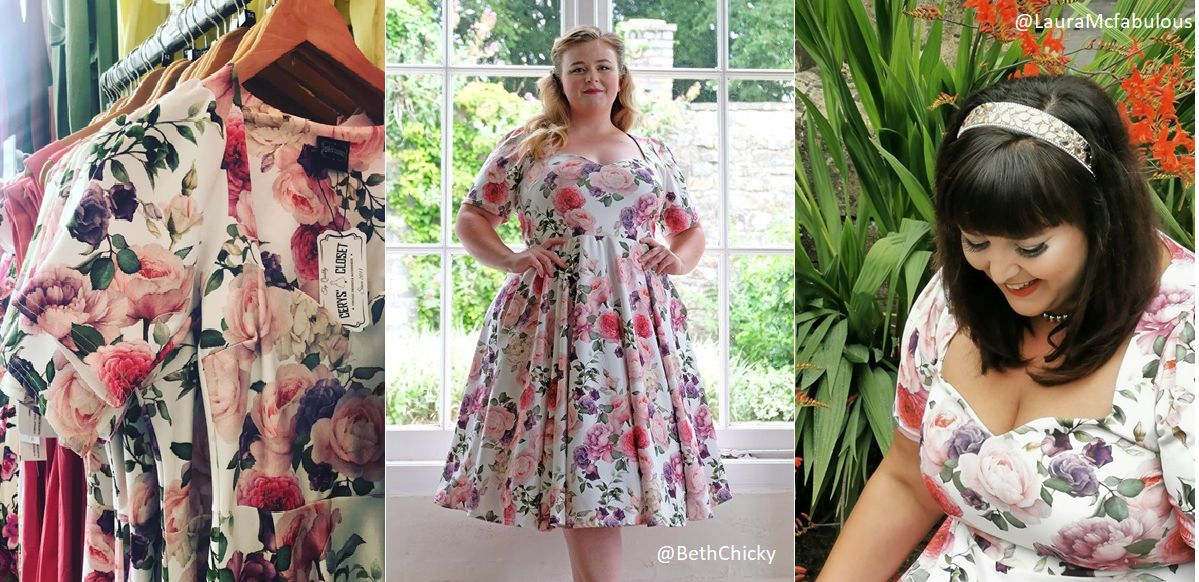 What's Next?
Since the launch The Pussycats and I have headed to Court Coleman Manor for a quick photoshoot with the amazing Cerrys Wakefiled photography and she has taken some amazing pics which are now on our website and flooding social media. There are plenty more to come... and we have just hit 132k views of our crazy videos on TIKTOK - at my age ha ha (Insta and TikTok Handles below - follow us).
Our floral print Vera is the first in the line of our limited edition prints. We will be releasing these throughout the year with the second one already in sampling. Keep an eye on social media for all the sneak peeks!
I already have the second dress in line for production ready for Autumn/ Winter - I actually have 4 dress designs in the wings but lets see how it goes lol.
But at the moment, I'm just just enjoying the comments from the people who have bought Vera, I am always amazed when people say they love something I've made.
My Thanks
I am ever so grateful to get to the end of lockdown with my business still intact, my first dress in my own line launched and with my family, friends and loyal customers all healthy, well and cheering me on.
From the bottom of my heart, thank you to every customer who has bought from me during lockdown. You have literally kept me going as we fell through the cracks with all government funding so you guys and my savings have gotten us through. Thank you everyone xx
I also want to say a huge thank you to all my Pussycats.
These ladies are QUEENS and one of the most wonderfully unexpected things to have come out of setting up my own business. I have met each of them through my shop and I am so thankful to call them friends.
When the Pussycats assemble you know that you're in for some laughs, selfies and possibly the odd bit of knicker flashing!
Donna Smith, Lisa Brunt, Natalia De Celis, Laura Williams, Laura Mcfarlane, Kirsty Lewis, Bethany Chick, Lisha Solik, Donna Purnell. Cerrys Wakefield, Mammy Sue and The Kitten Emily.
Much love and thanks to you all xxx
I have never taken anything in my life for granted, but when the threat of losing everything hangs over you like a sword waiting to drop it puts everything into perspective.... I really didn't need a big fancy launch after all! I've got everything I need.
Here's looking to the next chapter dolls!
I cannot wait to see what level 8 of Jumanji has in store 2020 so far it's been wild!
Love
Cerys xx
Insta and Tiktok @Doomtatts @Red_Lips_Lisa @LauraMcfabulous @Bethchicky @lauzwillz @Dizzydonna84 @missspoonfulofsugar @ceryscloset @miss_amy_may